BOARDSPORTS
Lite Sleeve
Our Lite sleeve provides reliable packaging protection suitable for surfboards, kiteboards, wakeboards, skimboards and snowboards.
Surfboard protection for the safe shipping of boards around the world
Made from over 85% recycled paper pulp
Plastic-free, recyclable, biodegradable and compostable
Reduces packaging times from 15-20 minutes to under 6 minutes
Easy to assemble and slot into the supply chain
Designed to protect not only the rails, but also the deck, nose and tail
Compact to store and lightweight for economical shipping
Expands to 600mm wide
2 layers of 15mm paper honeycomb protection
3.6mm card protects board rails
---
CONTACT US FOR TRADE ENQUIRIES
Please note: Multiple sleeves are required for one board – download datasheet below for more information and technical specifications
Flexi-Hex® Lite is a robust, heavy-weight paper sleeve made from an expandable honeycomb material. The innovative hexagonal cell structure not only provides incredible surfboard protection for boards in transit, it also creates a sleeve that is extremely flexible. In its natural state the sleeve is compact, however when fitted around a board, the sleeve expands open and takes on the form of the product within.
Due to the sleeves being open-ended, multiple sleeves can be cut to size and joined at the seam using paper tape, therefore creating a simple packaging solution that will protect boards of different lengths. It's quick and easy to use, saving both time and money compared to traditional packing methods and most importantly, it's 100% plastic free.
With current surfboard packaging times between 15-20 minutes, Flexi-Hex takes less than 6.

We like those numbers.
In conversation with Otter Surfboards
Otter have been handcrafting sustainable wooden surfboards in Cornwall since 2008. Like Flexi-Hex, they are passionate about keeping our oceans free from plastic waste. We sat down with the Founder James to find out more about the business and their amazing efforts to reuse and recycle.
---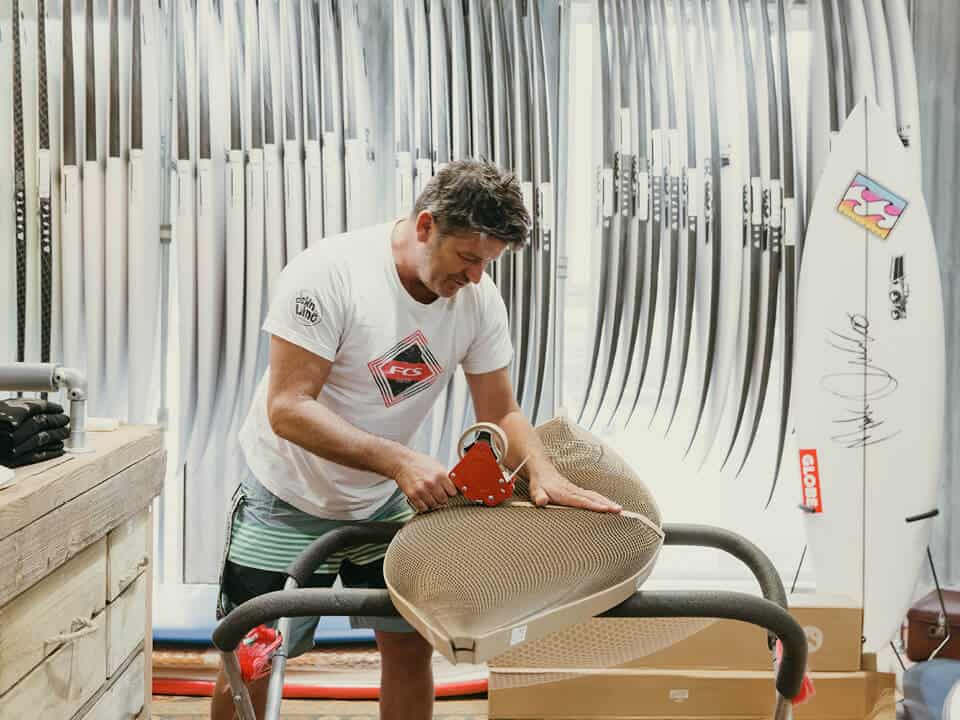 In conversation with Down The Line
As one of the first adopters of Flexi-Hex packaging, Down the Line have lead the way in plastic-free packaging within the boardsports industry. We're delighted to work closely with the company and support their sustainable efforts. We chat to Ryan from the Down the Line team.
---
In conversation with Open Surf
Open Surf is a friendly, experimental space found in Cornwall primarily dedicated to the craftsmanship of shaping surfboards. A great local partner, we chat to the team about their eco-credentials and top tips on sustainably packaging boards for safe shipping.
---
Other products in this range