BOTTLES
Slender
The Slender is premium bottle packaging that provides protection for bottles and gifts. It consists of a Flexi-Hex sleeve, a cap to secure the base and a customisable wrap to lock the capsule together.
Cardboard packaging sleeve designed for the maximum protection of bottles and gifts
Premium bottle packaging made from over 85% recycled paper pulp
Plastic-free, recyclable, biodegradable and compostable
Fits bottles of all shapes and sizes up to 320mm in height
A luxurious look and feel that adds value to brand perception
Reduces breakage rates through innovative engineering
Compact to store and lightweight for economical shipping
Can be customized with company branding
Postal boxes sold separately
---
The Slender capsule is a high-quality packaging solution for bottles and gifts and is made of three components; a Flexi-Hex® sleeve which stylishly protects the bottle from impact and damage, a cap to secure the bottle in the base of the sleeve and a customisable paper wrap holding the whole capsule firmly together.
The Slender benefits from being highly flexible packaging that can be applied to a range of bottles sizes. The sleeve expands and forms around the shape of the bottle, hugging it tightly within while the caps come in different sizes to allow for a variety of bottle diameters.
If being sent in the post or via courier, the Slender can be inserted into a Pinch Top or alternative postal box, delivering a beautifully presented bottle to the end consumer.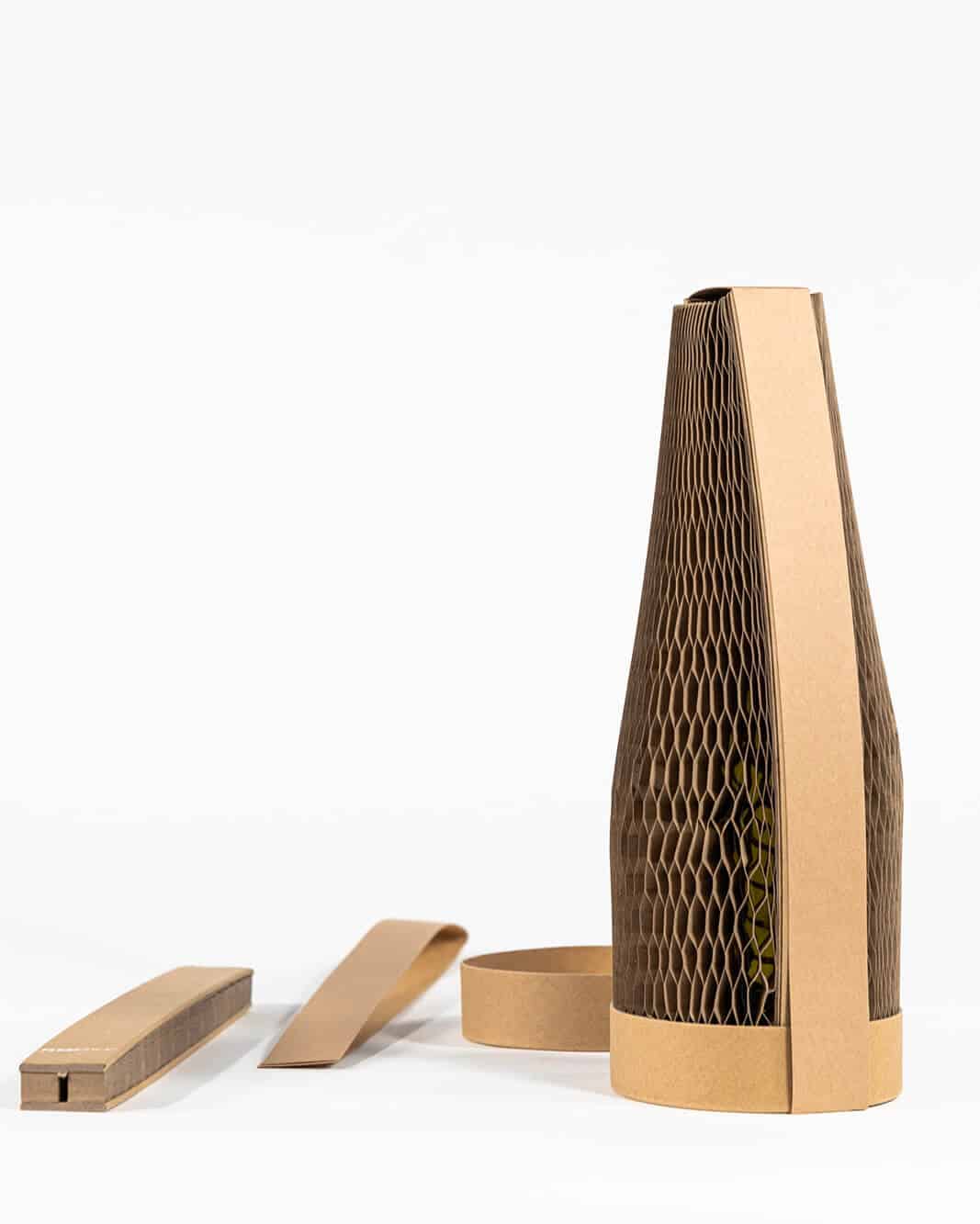 Did you know?

Over 25% of UK distilleries are now using Flexi-Hex packaging.
In conversation with Bombay Sapphire
We are proud to be working with Bombay Sapphire Distillery who use Flexi-Hex® packaging to safely deliver their renowned gin bottles around the UK. We loved learning more about their sustainable processes and how Flexi-Hex has helped them on their journey to be plastic-free by 2030.
---
In conversation with Avallen
Thank you to the Founders of Avallen, Stephanie and Tim, for answering our questions about the origin of Avallen, sustainability within the drinks industry and why they chose Flexi-Hex® for their eco-friendly packaging.
---
In conversation with KANKAN
KANKAN was set up by Mary and Eliza as a solution-led brand unwilling to compromise on quality products and a luxurious experience. They put soap in cans – making refills fun, convenient and plastic free. KANKAN use Flexi-Hex not only for its eco-credentials but also for its beautiful design.
---
Other products in this range