INDUSTRY
Sustainable Cosmetics Packaging
In 2018, the annual campaign Zero Waste Week reported that 120 billion units of packaging are produced every year by the global cosmetics industry, much of which is not recyclable. Thankfully, the beauty industry has started putting the earth first and our Flexi-Hex® Air range has been designed with cosmetics in mind.
Flexi-Hex Air is a lightweight sleeve made from tissue paper, that is recyclable and biodegradable. It's cosmetics packaging that looks beautiful and is simultaneously strong, elevating a consumer's buying experience and loyalty by ensuring products arrive securely and damage-free. Available in four sizes, Flexi-Hex Air is a simple cosmetics packaging solution to protect body and beauty products from bottles, pumps and sprayers to jars, tubes and compacts.
---
Products in this range
We currently have one packaging product, Flexi-Hex Air, that is ideal for cosmetic products. It comes in a range of specifications and is easy to incorporate into wider packaging solutions.
Flexi-Hex Air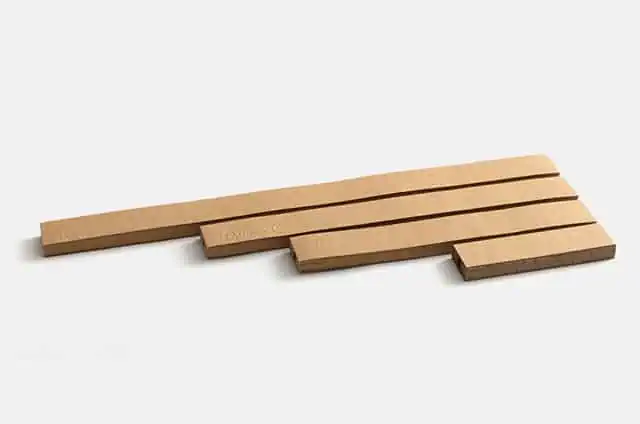 Flexi-Hex Air is a lightweight packaging sleeve made from tissue paper that is ideal to protect smaller, fragile products.
---
Products Delivered Beautifully
As online shopping continues to increase, the packaging of skincare and makeup is as important to a brand's identity as the product itself. Our sleeves have been designed with the consumer in mind. The honeycomb design reveals the product within while the luxurious look and feel of tissue paper adds to the unpacking experience.
---
Reliably Strong
Honeycomb's hexagonal cell structure is renowned for its strength. Even when made of tissue, its ability to protect fragile items is extraordinary. Flexi-Hex Air sleeves are produced using this natural geometry, so brands can be confident that products, be it cosmetic, skincare or fragrant, will be delivered to customers perfectly in one piece.
---
Environmentally Friendly
Flexi-Hex Air is recyclable and biodegradable, making it one of the most eco-friendly packaging solutions in the market. And, with paper being the most recycled material in Europe, we can be rest assured that consumers are likely to place our packaging into household recycling.
---
What they say
"Flexi-Hex packaging has ensured our bottles and can refills are delivered not only plastic-free but also in packaging that looks and feels premium and protects our products incredibly through the postal system."

Mary McLeod, Co-founder

"Flexi-Hex was the perfect fit for us as their biodegradable Air sleeves provide a premium, top-quality alternative to plastics, but also keep our elegant eco bottles protected when in transit. It was a no brainer for us!"

Lauren Rose-Davies, Operations & Logistics Manager

"We admire the Flexi-Hex vision for a plastic-free, sustainable packaging industry and were immediately impressed with the aesthetic and innovative design structure. Our customers love that they can reuse the sleeves and we've saved plenty of packaging time as they easily fit each and every one of our product sizes."

Sarah Mcnish, Founder

"Our challenge was to find a solution that protects our glass bottles and jars during transit, but is also visually appealing, reusable and practical to use without time-consuming assembly. Not an easy task and one we've struggled with for some time until we discovered Flexi Hex's recently launched Air range. The sleeves perfectly fit all sizes of our cosmetic products, and they've saved a significant amount of time at the packing station. Our customers love that they can keep and reuse the sleeves, and they've commented on how luxurious the unboxing experience feels."

Rupa Wincell, Founder