INDUSTRY
Sustainable Electronics Packaging
In 2019, 1.5 billion smartphones were sold across the world. The scale of the electronics industry is simply astonishing. And, with companies like Apple committing to being carbon neutral by 2030, we're seeing a wave of brands reviewing their supply chains, including the packaging they're sending goods out in. That's where we'd like to help. Flexi-Hex® Air is ideal for protecting valuable devices and fragile electronic parts and has the potential to strip a vast amount of plastic from this industry alone.
Flexi-Hex Air is our lightweight electronics packaging sleeve designed for smaller, more delicate products. Made from high-quality tissue paper, the sleeve is incredibly flexible but retains its strength against impact due to its unique honeycomb structure.
---
Products in this range
We currently have one product, Flexi-Hex Air, that is ideal for electronics packaging. It comes in a range of specifications and is easy to incorporate into packaging solutions.
Flexi-Hex Air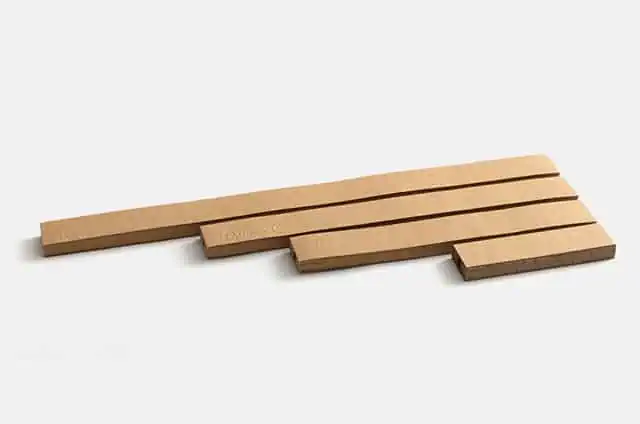 Flexi-Hex Air is a lightweight packaging sleeve made from tissue paper that is ideal to protect smaller, fragile products.
---
One Solution, Many Applications
Whether you're looking for protective packaging for components, parts or fully assembled electronic products, the magic of Flexi-Hex Air is its adaptability. The electronics packaging sleeve comes in four lengths ranging from 10cm to 35cm and has the ability to protect anything fragile from phones and laptops to tv screens.
---
Happy Customers
We understand that packaging is often a customer's first interaction with a brand and an important part of a buyer's journey. Flexi-Hex Air is an eco-friendly packaging solution that brands can be proud of. Its innovative design helping to improve brand perception and customer loyalty by delivering a gifting experience that is fuss-free and easy to recycle.
---
Reduced Costs
The compact nature of Flexi-Hex Air means you can fit around 32,000 sleeves onto one pallet. With the costs of both shipping and storage on the rise, decreased volumetrics is a huge bonus for the bottom line.
---
What they say
"Flexi-Hex packaging has been a joy to work with, and once we had convinced wholesalers and retailers of not only its sustainable credentials but also its protective qualities, everyone was keen to embrace it and replace the single-use plastic sleeves with the Flexi-Hex option."

Tim Etherington-Judge, Co-Founder

"Flexi-Hex proved to be the perfect solution; it's made from paper-based materials derived from fully sustainable sources, all of which are recyclable at the end of their life. On top of this, Flexi-Hex packaging minimises the risk of breakages and looks the part – very important for the Marlo brand!"

Toby Watson, Business Development Executive

"We are committed to using eco-friendly packaging materials, but they still have to be strong and reliable to ensure our products reach our customers in perfect condition. Flexi-Hex is the perfect solution for our more fragile pieces and gives us the confidence they will arrive with our customers safely."

Lauren Bayfield, Head of Logistics

"We're always looking for new and innovative materials or solutions. Flexi-Hex immediately caught our eye because of the incredible design structure (we love taking inspiration from nature), but also the sustainable nature of materials used. It was really a win-win for us at a time when we were looking to upgrade our nest box (what we call our complete package). We also love that they can be reused, and we know many of customers make use of this."

Ed Bird, Founder