INDUSTRY
Sustainable Bottle Packaging
The food and drinks industry is the largest manufacturing sector in the UK and also our biggest customer. With brands pushing for more eco-friendly packaging, we're excited to be part of this positive movement and working with some inspirational people and products.
Our range of plastic-free bottle packaging protects products of all dimensions, so whether your company sells wine, whisk(e)y, spirits, Champagne or no to low alcohol – we have you covered. With post-ready boxes for one, two, three and six bottles, customers will receive Instagram-worthy packaging that is representative of your brand values while you can feel confident that bottles will arrive safely in one piece.
With paper solutions for both premium gifting and larger scale e-commerce, Flexi-Hex® bottle packaging can help your brand save time, money and the planet.
---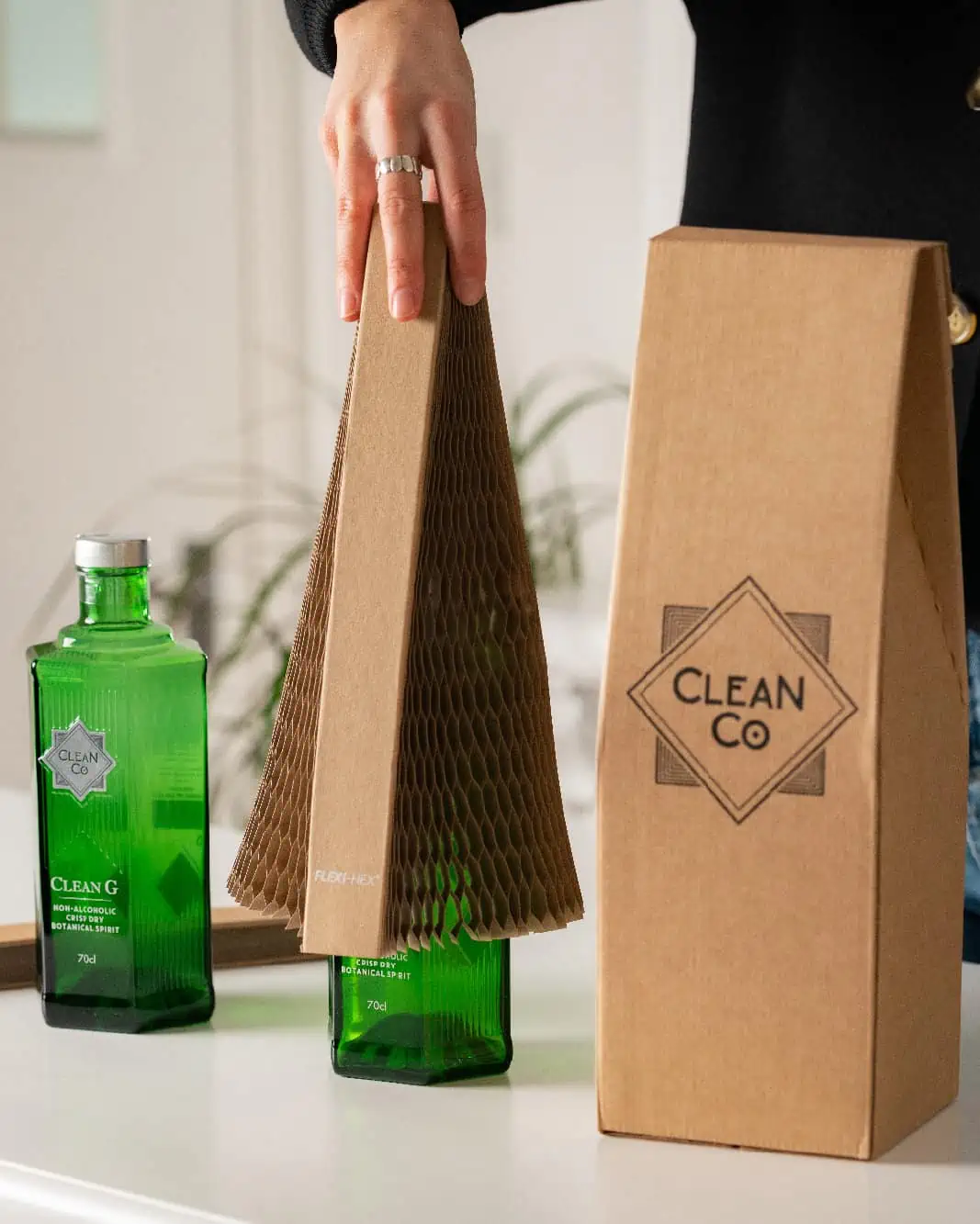 Products in this range
Suitable for mail order, gifting or door-to-door delivery, all our bottle sleeves and boxes are all innovatively designed for maximum strength and beauty.
What they say
"Choosing Flexi-Hex has been a game-changer as it's allowed us to be more flexible in our overall packaging solution, and ultimately, has provided us with a safe and reliable option that fits perfectly with our bottles."

Ellie Webb, Founder

"Flexi-Hex courier-ready packaging is not only sustainable, functional and beautiful to look at! It was the perfect pack to re-launch the Grolsch product in the UK and our customers and stakeholders were as impressed with the packaging as they were with the beer!"

Laura Mitchell, Project Manager

"I am proud to support the use of Flexi-Hex; recyclable packaging and a reliable use of technology when sending wines purchased on Le Gavroche website. As a chef but also as a grandfather, I will always support what is best for our Planet and future generations."

Michele Roux Jr

"Incorporating Flexi-Hex packaging has been a seamless process and it gives us confidence that we're protecting our bottles in transit whilst protecting the planet."

Lucy Holten, Trade Marketing Manager

"Working with Flexi-Hex enables us to offer plastic-free packaging that not only looks good (so good our customers even write to us to tell us they love it) but also protects our bottles better than any other solution we have found, saving us the headache of lots of expensive broken bottles and delayed deliveries. The team are also brilliant to deal with so all round, I can definitely recommend."

Bethan Higson, Founder

"We found Flexi-Hex via Instagram and were immediately impressed by the fact that their packaging is both recyclable and made from recycled material. Not to mention the professional element the packaging gives to our brand - an eco-friendly product that doesn't compromise on quality and functionality. Our customers love it just as much as we do!"

Ellis McKeown, Co-Founder

"Flexi-Hex really have created something special. We at Seedlip believe it to be best in class for e-commerce packaging - durable, sustainable, unique and beautiful. All the team are great to work with and have made the whole development process simple and enjoyable."

Cathriona McCaffrey, NPD Manager

"We wanted to work with a local, sustainable company for our packaging, and even better, it works! We send out a huge number of bottles in Flexi-Hex on a daily basis and almost none have been broken!"

Sean Blackburn, Head of Marketing

"Flexi-Hex have given us the peace of mind to know that when our Rose Gin arrives with our customers, it will not only be undamaged but also wrapped in the most original and beautiful packaging on the market."

Hannah Lamiroy, Co-Founder

"Flexi-hex has allowed us to deliver not only our beer, but on our sustainability commitments - it's a beautiful, intriguing and secure packaging solution all rolled in to one and we couldn't be prouder to have been a part of the Flexi-Hex journey."

Nick Rees, Co-Founder