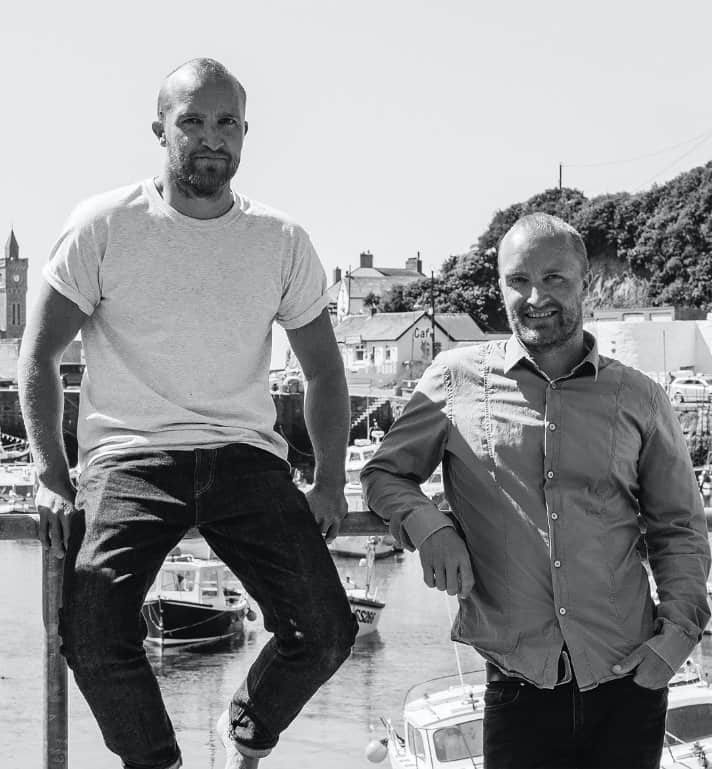 THE FOUNDERS
Our Story
Flexi-Hex® began with solving a problem. We were surfers looking for a way to transport our boards without using plastic, and without running the risk of damaging them. But we were also product designers and problem solvers. The scene was set to create our first product – a surfboard sleeve that fit like a wetsuit, used zero plastic and protected both our boards and the planet.
As a coastal business, protecting the planet's marine environment will always be at the heart of our mission. By creating a paper product that's recyclable, biodegradable and natural, we're removing unnecessary plastic from our seas. It's something we see the impact of every day. Our love of the sea runs deep through our team. It's why we take care in everything we do, from the way we run our business to the way our product is made.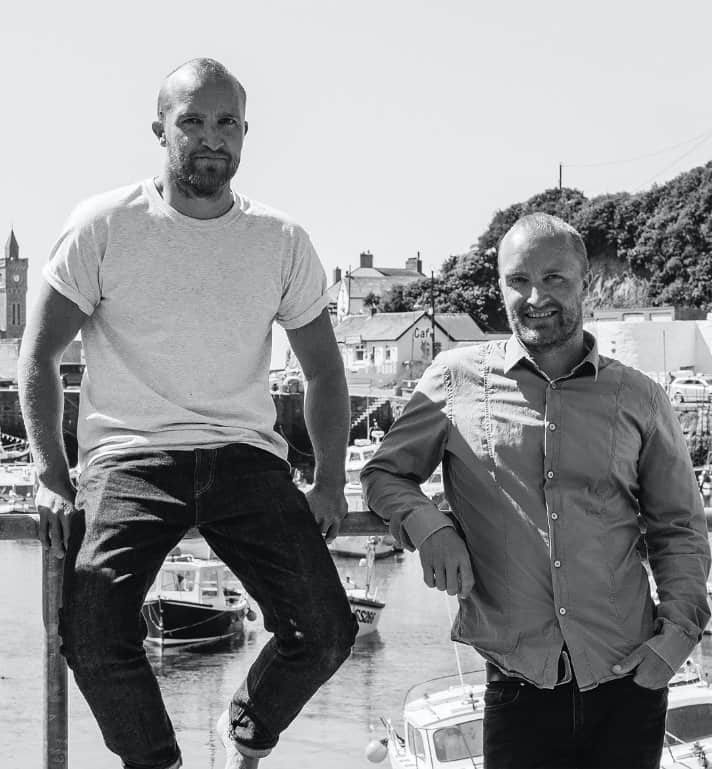 To care
We're on a mission to make sustainability sustainable. That means thoughtful design. Caring about our planet. Collaborating – not just working – with our partners.
To tread lightly
Everything we do has an impact. But we make sure to make as little as we can, both as a business and individuals.
To be transparent
We don't pretend that we know everything; that's why we're constantly innovating. So, we have to be honest and transparent with ourselves, our customers and our partners.
2018
Flexi-Hex was born
In January 2018, Flexi-Hex launched with an innovative plastic-free packaging sleeve designed specifically for surfboards. 11 months later we developed a sustainable bottle packaging solution which is now our most popular product.
2019
Hello awards & grants
Summer 2019 was a big one! We were awarded our first patent in the UK, a government grant from Innovate UK and we received investment from Sky Ocean Ventures who helped us develop into the business we are today.
Flexi-Hex, but lighter
In April 2020, we launched a successful crowdfunding campaign that blew us away with its support and engagement and allowed us to develop our next product, Flexi-Hex Air – a lighter sleeve made from tissue paper ideal for protecting smaller fragile goods like cosmetics and electronics.
2021
Year of Growth
Probably our busiest year yet with 2 million sleeves sold, 1,555km of plastic prevented from use, 22 countries traded in, 5 new team members and 5 awards won for sustainability and innovation.
Meet the team
We are a team of passionate problem-solvers with experience in design and packaging. Being an eco-conscious business, Flexi-Hex naturally attracts an internal interest in sustainability and environmental change. Our HQ is in Cornwall, and we love that we have the ocean and its surrounding landscape to enjoy during the workday. From surfers and rowers to painters and footballers, we are a diverse but close-knit team united by our company values (being caring, passionate, solution-focused) and our love of the great outdoors… oh, and cardboard of course!
Florence Griffiths
Account Manager
Polly Hughes
Marketing Executive
Kyle Fraser
Accounts
Will Boex
Co-Founder
Ailsa McNaughton
Sales Coordinator
Steve Trethowan
Head of Global Sales
Kieran Kite
Rose Darling
Graphic Designer
Bella Collins
Sam Boex
Co-Founder
HEAD OF Global SUPPLY CHAIN
Florence Griffiths
Marketing Executive
Polly Hughes
Accounts
Kyle Fraser
co-founder
Will Boex
Ailsa McNaughton
Head of Global Sales
Steve Trethowan
Kieran Kite
Graphic Designer
Rose Darling
Bella Collins
Co-Founder
Sam Boex
ACCOUNTS
Head of supply chain
ACCOUNT MANAGER

Florence Griffiths

Florence developed her love for working in sales during her time as a beauty advisor. Now an Account Manager at Flexi-Hex, her focus is on building strong relationships with our cosmetics customers and ensuring our message of sustainable solutions reaches far and wide.

MARKETING EXECUTIVE

Polly Hughes

Polly supports Bella in the marketing team with a focus on digital content and social media. With a passion for travel, she strives to highlight the effects of plastic pollution on our planet and encourage sustainable choices in a fun and creative way.

JUNIOR ACCOUNTANT

Kyle Fraser

Kyle joined Flexi-Hex while partaking in his accounting studies to which he aims to grow within the business. With a background in mathematics, Kyle has a skillset to which he helps analytically with delivering reports and maintaining the correct stock levels so that our customers never have to worry about being without our award-winning eco-packaging.

Co-founder

Will Boex

Will has had a pivotal role in growing Flexi-Hex from day one and leads on global logistics, business growth and development. Will bridges the gap between the sales, finance and design team and works closely with our trusted manufacturers to ensure the product is produced to the highest quality and distributed globally.

Account Manager

Ailsa McNaughton

Ailsa is our Account Manager for sports and is also one of the first points of contact here at Flexi-Hex. When she's not in the sea, she's helping out our sports customers and supporting our fantastic sales team at Flexi-Hex HQ.

Head of Global Sales

Steve Trethowan

Steve is a focused and driven sales professional with over 20 years' experience in leadership, strategic business planning and global sales. Steve is a driving force behind our expanding global reach and international sales, working to build strong, personal and long-term relationships with brands, partners and distributors.

KEY ACCOUNT MANAGER

Kieran Kite

As one of the first points of contact within Flexi-Hex, Kieran works closely with potential customers to understand how the various packaging solutions might work with their needs. He is there to provide expertise and advice on the most suitable products and to solve any questions and queries quickly and effectively.

KEY ACCOUNT MANAGER

Sarah Mallia-Rourke

Sarah comes all the way from Switzerland and is a key contact for our distributor partners. Fully fluent in French, one of her focuses is to lead the expansion of Flexi-Hex into Europe and other international markets, working to build strong, personal and long term partnerships with brands and suppliers.

GRAPHIC DESIGNER

Rose Darling

As Flexi-Hex's in-house graphic designer and illustrator, Rose takes the lead on refining and developing the visual identity. That's all the essential brand elements that people associate with Flexi-Hex such as logos and instructional graphics. Rose brings these elements together across a wide range of touchpoints.

HEAD OF MARKETING

Bella Collins

Bella drives Flexi-Hex's marketing strategy, delivering our brand vision across multiple channels from social media and email to PR and partnerships. Collaborating with distributors and customers, she supports their marketing activities to help turn up the volume on the sustainability message and drive for change.

Co-founder

Sam Boex

Sam has been an instrumental figure in Flexi-Hex's journey from its seed idea to ambitious start-up to an internationally known packaging brand. With a background in product design, Sam leads the Creative Team taking design concepts through to finalised product solutions, pushing the visual and technical boundaries of eco packaging.

Accounts

Liam Gimbert

Liam focuses on the day-to-day finances of the business. With a love of travel and a degree in Mathematics from Exeter University, Liam strives to make sure Flexi-Hex reaches all corners of the globe by analysing data to help the team make smart, sustainable decisions.

Head of Global Supply Chain

James Trevena

James is responsible for developing and managing Flexi-Hex's global supply chain, ensuring that it runs as smoothly and efficiently as possible. With 14 years experience across multiple sectors - military, humanitarian and commercial - James will drive forward ethical and sustainable practices and end-to-end visibility and accountability.
Our Industries
Although Flexi-Hex can be applied to a wide range of applications, we have tailored packaging solutions for a number of industries.
---